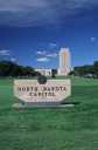 North Dakota is a large, sparsely populated state in the Great Plains of the U.S. Situated amidst the stretches of prairies, hills, and badlands are huge ranches, vast wheat fields, and small towns. Nearly a sixth of the state's population now lives in or around the state capital of Fargo, and that number seems to be growing as North Dakota's economy slowly shifts from agriculture to industry.
The International Peace Garden, situated on the Canadian border, has earned North Dakota its designation as the "Peace Garden State." During the 1970s, two attempts were made to officially change North Dakota's nickname to the "Roughrider State" (in reference to Theodore Roosevelt's First U.S. Volunteer Cavalry, which included several North Dakota cowboys). However, these bills were defeated by the Legislative Assembly.
The Dakota Territory was acquired as part of the Louisiana Purchase in 1803, and was carved out in 1861. President Benjamin Harrison signed the bill to split the territory into two states and admit both into the union in 1889. Because of the rivalry between North and South Dakota, Harrison insisted that the paperwork be shuffled so nobody would ever know which state was admitted first.