"Read to Our Own Heroes" Helps School Children Celebrate Local Heroes

Karen Kosko, the Library Media Specialist (LMS) at Daniel Haggerty School in Cambridge, Massachusetts has developed a great idea for celebrating local heroes. Many schools and classrooms ask local community "celebrities" to visit and read to the students to promote reading. After September 11th, Karen brought a new perspective to "celebrity" reading. She developed a special learning unit entitled, "Read to Our Own Heroes."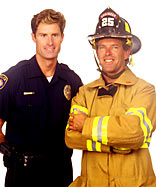 A firefighter, police officer, or emergency medical technician was invited to meet with a class individually in the Library Media Center as a guest of the class. The guest was not asked to prepare anything for the visit and was not informed as to what was to unfold. The only request of the guest was that they relax and enjoy the experience of meeting informally with the class.


The students prepared for the visit by writing letters, raps, songs and poetry, then they practiced reading and performing the pieces. Other students chose to learn songs, poetry, and stories from books and practiced reading those aloud. Students also created artwork and crafts for their hero. One class created a story quilt.


At the visit, the guest was asked to sit back and enjoy. The children recited and presented their material, honoring the guest.


The tribute was videotaped and shown on the local cable station.
The guests, the children, and the teachers found this to be a particularly moving and positive experience. Not only did it honor individuals who give to the community, it also provided an opportunity for the students to research and understand the importance of civic service. Although Karen created this unit in response to the events of September 11, 2001, this classroom activity can be used to raise the awareness of students to a variety of help professions and encourage literacy at the same time. Talk to your school librarian about creating a "Read To Our Heroes" event at your school.

© 2002 Mary Brigid Barrett